Welcome
Online Sellers of Beautiful pashmina shawls, scarves, stoles, wraps, throws, blankets to USA, Canada, UK, Germany, Italy, France, Japan, Mexico, Brazil, Chile, Argentina, Venezuela, Austria, Holland, Finland, Ireland, Sweden, Switzerland, Spain, Russia, Denmark, Norway, Hong Kong, Philipines, Taiwan, Korea, Australia, New Zealand, Singapore, Malaysia, Thailand, Turkey, Iran, Dubai.......
ANTIQUE CUSHION COVERS
Sizes Available : 16" X 16"
Customised Orders also undertaken
Shipping is only 10 USD Total whether you buy 1, 2, 5 or 10 cushion covers
UNIQUE ANTIQUE CUSHION COVERS 1 PCS EACH DESIGN
Enter the world of timeless treasures. This cushion cover is detailed with beautiful handwork. It is loaded with beads, and raised gold threadwork embroidery that makes it a spectacular work of art and a masterpiece to own.
This magnificent cushion cover must be seen to be fully appreciated. It is an exquisite composition of different fabrics, generally silks, gold thread work and beadwork. The intricate hand embroidery and beadwork is often taken from collars, cuffs and borders of old Indian textiles. The pieces of decorated fabric are hand selected and arranged into collages and backed in cotton.
The Cushion displays intricate gold threadwork. It measures approx. 16"x16". The Cushion cover has antique embroidered saris and textiles, which are patched in a beautiful, unique design. The look and feel is antique. They have black cotton overlapped backing to put the cushion or filling in. The cover can be used for Decorative Cushions or hung as Tapestries. My education related to Indian fashions and specialization in Textiles science along with twenty years of work experience has surely made me able to appreciate these beautiful pieces. I am sure you will love these beautiful detailed cover.
Only Cushion cover is for sale, cushion is not included. This cushion cover is sewn by professional tailors. Special quilting material is added behind the embroidered fabric for added padding and beautiful finish.
| | | | |
| --- | --- | --- | --- |
| Antique Cushion Cover | 16" x 16" inches or 40 x 40 cms | 25 USD Per Piece | |
MORE CUSHION COVERS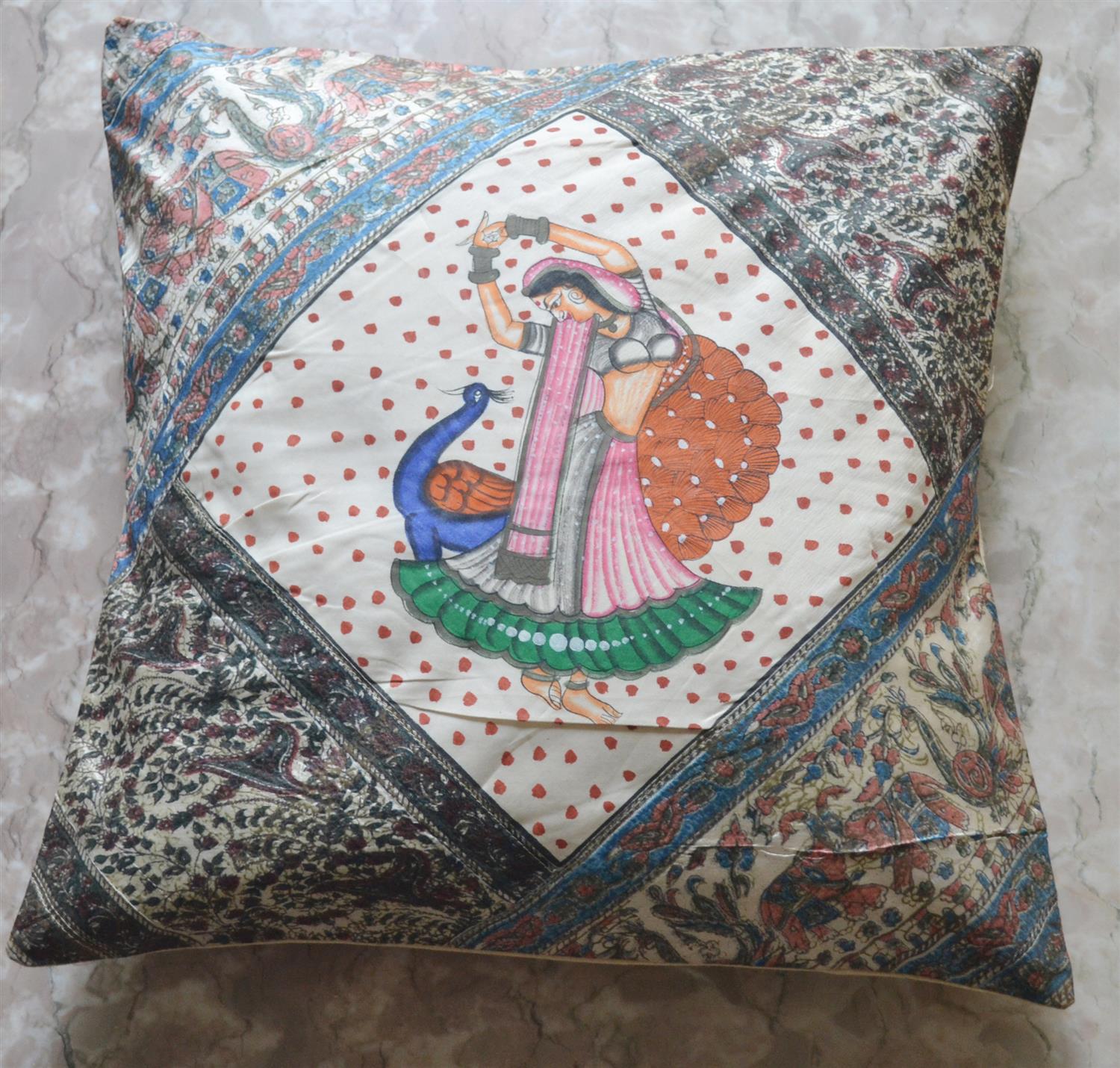 Varanasi Cushion Covers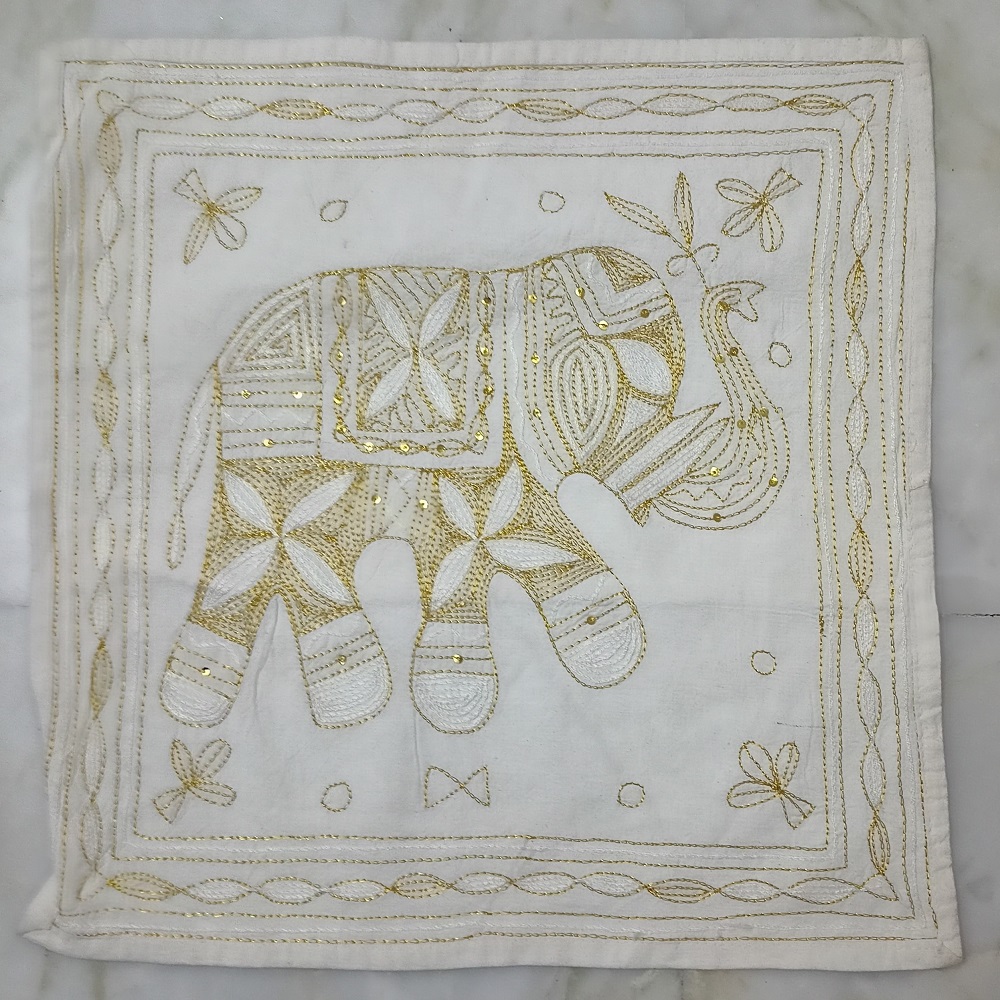 Cotton Cushion Covers
Beaded Cushion Covers
Silk Brocade Cushions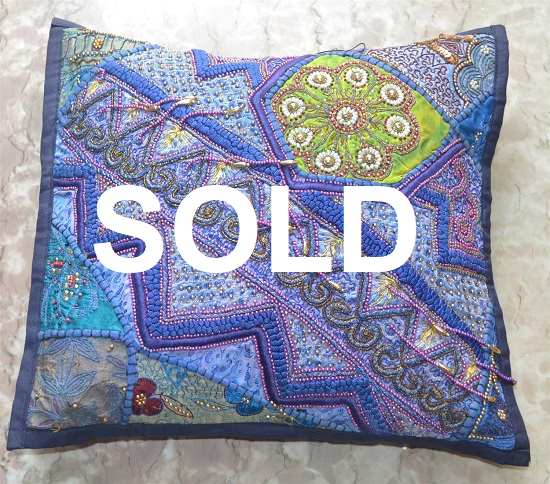 Antique Cushion Covers
We also supply ethnic and modern curtain covers, throws, bed spreads, wall hangings, table cloths, mattresses