Welcome
Online Sellers of Beautiful pashmina shawls, scarves, stoles, wraps, throws, blankets to USA, Canada, UK, Germany, Italy, France, Japan, Mexico, Brazil, Chile, Argentina, Venezuela, Austria, Holland, Finland, Ireland, Sweden, Switzerland, Spain, Russia, Denmark, Norway, Hong Kong, Philipines, Taiwan, Korea, Australia, New Zealand, Singapore, Malaysia, Thailand, Turkey, Iran, Dubai.......
KASHMIRI HAND EMBROIDERY JAMAVARS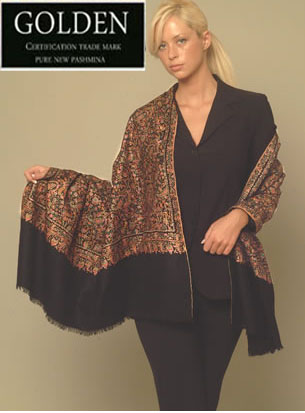 The Sozni Kashmiri shawl is rooted in a complex craft tradition that goes back at least five hundred years. Its uniqueness lies in a combination of factors that have made it virtually impossible to duplicate anywhere else. Imitations have abounded for centuries, but none has succeeded in producing the inimitable delicacy of warp and weft, of material and design that comprise the legendary beauty of the sozni jamavar shawl. Enduring as a design classic that has grown out of an indelible local aesthetic, the shawl's appeal lies in its ability to represent continuity as well as change.
Sozni Kashmiri Hand Made Embroideries for only 1000 USD
Perhaps, nothing epitomises the glorious history of Kashmiri craftsmanship, as warmly and beautifully, as does the Pashmina. A legacy of the India, its heritage of India too. Some of the craftsmen in Kashmir have managed to revive that old glory and provide replicas of 10th & 18 th century hand embroidered shawls. It even takes 5-12 months to prepare a hand embroidered shawl. The shawls shown below are produced by master craftsman, which are unique and has received awards from President of India for creating best designed shawls in the world. Possesion of this shawl will be the most valuable asset of your life which you can pass on to your future generations and they will be proud of you.
Many kinds of embroidery are worked on shawls. 'Sozni' (needlework) is generally done in a panel along the sides of the shawl. Motifs, usually abstract designs or stylised paisleys and flowers are worked in one or two, and occasionally three subdued colours. The stitch employed is not unlike stem stitch, and only the outline of the design is embroidered. The fineness of the workmanship and the amount of embroidery determines the value of the shawl. Here are selected master craftsmanship pcs offered for sale.
A Nice Pashmina shawl is for around US$ 200. But if a master craftsman has laboured on the fabric for two years or more you can choose to wear the masterpiece for US$ 1000. Interested in a once-in-a-lifetime investment? Buy Now.